BOSCO MUSINGS
The E-Magazine of Don Bosco School, Bandlaguda
About Bosco Musings
Don Bosco School published its first online school e-magazine in March 2020. The magazine is put together by a student editorial team. The aim of the e-magazine is to give our students the opportunity to showcase their talents and to foster creative writing skills. In January 2021, Rev. Fr. Chinnappa, the school principal, gave our e-magazine its name – Bosco Musings. We hope that Bosco Musings will continue to showcase our students' talents in the years to come.
Bosco Musings 5th Issue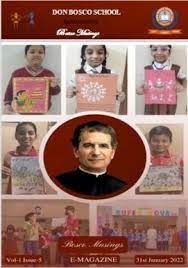 February 25, 2022: Don Bosco School is very pleased to present the latest issue of its school's E-Magazine, Bosco Musings.
In this issue of Bosco Musings we asked students to explore arts and culture based on their own ethnic background or other cultures and traditions in India as well as globally.
Congratulations to the students of the Editorial Team for all their creative efforts and talents in putting together this issue of Bosco Musings.
Please click here to read the e-magazine online: Bosco Musings
Bosco Musings 4th Issue
15th August 2021: On the joyous occasion of India's 75th Independence Day, Don Bosco School, Bandlaguda, takes great pleasure in presenting the 4th issue of our school's e-magazine, Bosco Musings.
In this issue, we asked students to become innovators and creative thinkers so they could look at coming up with simple solutions to problems that they see around them.
The COVID crisis has certainly challenged many of us to think innovatively in various fields, especially education. We hope that this issue sparks off creative and innovative thinking among our students. Hope you enjoy reading our latest issue.
Please click on this link to read the magazine online: Bosco Musings 4th Issue
Our Past Issues of Bosco Musings