School Magazine

Don Bosco School E-Magazine Vol 1 Issue 2

Don Bosco School E- Magazine Vol 1 Issue

Teacher's Corner

on Bosco School, Hyderabad, has a nurturing community where great emphasis is laid on developing moral values. Our teachers at Don Bosco School are dedicated to fulfilling the vision of the school which is to provide..

Curriculum

For its basic syllabus, the school follows the Central Board of Secondary Education (CBSE) pattern, right from the lower grades. The methodology and mode in which this is offered is typical of a Don Bosco Institution.

E-Library

We would like to encourage our students to keep reading books, while the school is closed because of the COVID Pandemic.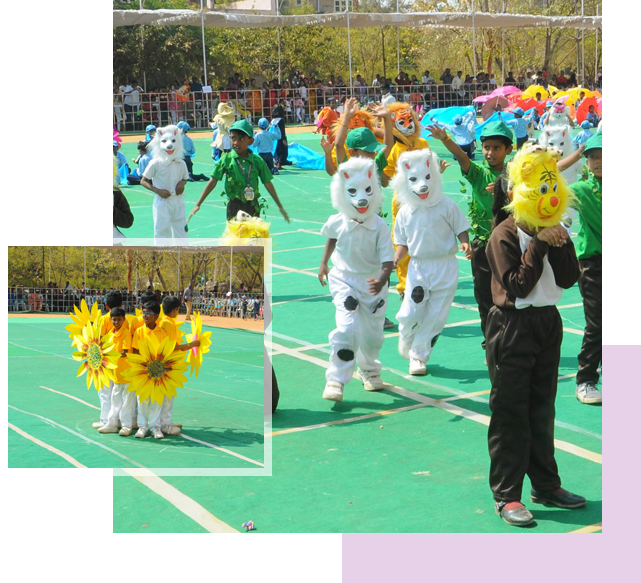 WelcomeOur School
Dear Students, Parents and Staff, Welcome to all of you for yet another eventful and fun filled year of learning and growth. At the outset I wish to congratulate our 10th grade students for the outstanding results in their final exams. Kudos to our Correspondent, the Principal, the Vice-principals and all the staff for guiding the students in bringing out the best in them. As ever, we at Don Bosco continue to strive to accompany and form our students individually and nurture them to unleash their potential to grow up as great human beings, firmly rooted in values.
Special Education

To achieve universalisation of education at both elementary and secondary levels by providing burden less quality

Traditional Academies

School Education Department is the largest department consisting of Primary and Secondary stages.
Birthday Celebrants
Happy Birthday CHALUVADI GOUTHAM KRISHNA - III Jasmine

Happy Birthday V SIDDARTH CHARY - III Jasmine

Happy Birthday A. SRISHTI - LKG Tulip

Happy Birthday TUNGALA LAKSHMI SARANYA - IV Jasmine
Management Speak
Dear Students, Parents and Staff, Welcome to all of you for yet another eventful and fun filled year of learning and growth. At the outset I wish to congratulate our 10th grade students for the outstanding results in their final exams. Kudos to our Correspondent, the Principal, the Vice-principals and all the staff for guiding the students in bringing out the best in them. As ever, we at Don Bosco continue to strive to accompany and form our students individually and nurture them to unleash their potential to grow up as great human beings, firmly rooted in values.

President

Fr. Thathireddy Vijay Bhaskar Reddy

Dear Students, Parents and Staff, Welcome to all of you for yet another eventful and fun filled year of learning and growth. At the outset I wish to congratulate our 10th grade students for the outstanding results in their final exams. Kudos to our Correspondent, the Principal, the Vice-principals and all the staff for guiding the students in bringing out the best in them. As ever, we at Don Bosco continue to strive to accompany and form our students individually and nurture them to unleash their potential to grow up as great human beings, firmly rooted in values.

Vice President & Correspondent

Fr. Thomas RajKumar Santiagu

Dear Students, Parents and Staff, Welcome to all of you for yet another eventful and fun filled year of learning and growth. At the outset I wish to congratulate our 10th grade students for the outstanding results in their final exams. Kudos to our Correspondent, the Principal, the Vice-principals and all the staff for guiding the students in bringing out the best in them. As ever, we at Don Bosco continue to strive to accompany and form our students individually and nurture them to unleash their potential to grow up as great human beings, firmly rooted in values.

President

Fr. Thathireddy Vijay Bhaskar Reddy

Dear Students, Parents and Staff, Welcome to all of you for yet another eventful and fun filled year of learning and growth. At the outset I wish to congratulate our 10th grade students for the outstanding results in their final exams. Kudos to our Correspondent, the Principal, the Vice-principals and all the staff for guiding the students in bringing out the best in them. As ever, we at Don Bosco continue to strive to accompany and form our students individually and nurture them to unleash their potential to grow up as great human beings, firmly rooted in values.

VICE PRESIDENT & CORRESPONDENT

REV. Fr. Thomas Santiagu SDB